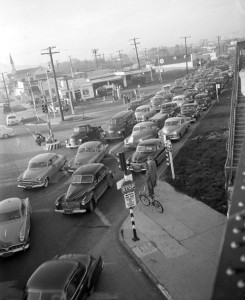 The roadways of the U.S. transportation system are a marvel of the modern, industrialized world. In a simple, pragmatic elegance, individuals daily execute complex patterns of motion to maintain their own particular life rhythms, operating their vehicles as part of a larger and interconnected symphony of mass motoring. To achieve this phenomenon, numerous factors have been carefully considered: mapping of routes, paving of roads, posting of signs and symbols, timing of traffic lights, manufacturing of vehicles to meet specifications, fueling of vehicles, allocation of parking, testing of drivers, lighting of thoroughfares, and the list goes on. And it all works beautifully…when it works. But when it doesn't, an ordinary day can turn into a frustrating or even tragic day at a moment's notice. For even in this most precisely planned of systems, there are variables. They are called drivers. Some drivers are largely ignorant of how the system is intended to work. Some drivers think the rules don't really matter or just don't apply to them. Others are distracted and oblivious to what is going on around them. Regardless of their state of mind, however, all these folks are wielding powerful machines and can easily become dangerous to themselves or others.
And so it is with sin. Sin creates traffic snarls in the patterns of our lives and those around us. God acts as a transcendent civil engineer to specify patterns that optimize movement. Not only with physical safety in mind, but with concern for our emotional and spiritual health as well. And his  prescribed patterns for safe travel on life's journeys are born out of holiness, a divine trait foreign to mere mortals.
Holiness is different than goodness. Sometimes a term is best understood by learning what it is not. For example, "clean" can be described as "not dirty"; "dry" can be described as "not wet." Some ideas are difficult to grasp without referencing a contrasting state that has been experienced by the reader. We have not experienced holiness, at least not in its fullness. This is a significant limitation, for the pure and unadulterated nature of the trait must be conveyed to comprehend the term. We have, however, experienced what it is not. We have experienced its generalized absence as "falleness" and its corruption or violation as "sin."
Much like Jude (v. 3-4), I wish that I could only discuss pleasant concepts and beautiful thoughts, yet the bitter topic of sin must be addressed to remain true to the goal of promoting biblical literacy. And to be true to harsher realities that we all experience. It must especially be addressed during this time of year. For there is no spring without winter. There is no Easter without Good Friday. Yep, I just had to bring up the "s" word. And as soon as a Christian does so, non-Christians immediately begin to cry "hypocrite." And indeed, there are hypocrites. And even if we are not deserving of the label, we probably at least sporadically demonstrate the characteristic of hypocrisy. But an accurate view of sin and holiness does not naturally lead to this end. Rather, it leads to humility. Authentic Christ-followers know that they are not devoid of sin, but are being saved from it. (1 John 1:8) Faith and obedience then follow out of love and gratitude rather than an effort to achieve a state of sinlessness.
What Thou, my Lord, hast suffered, was all for sinners' gain;
Mine, mine was the transgression, but Thine the deadly pain.
Lo, here I fall, my Savior! 'Tis I deserve Thy place;
Look on me with Thy favor, vouchsafe to me Thy grace.
What language shall I borrow to thank Thee, dearest friend,
For this Thy dying sorrow, Thy pity without end?
O make me Thine forever, and should I fainting be,
Lord, let me never, never outlive my love to Thee.*
Like Paul, we find that it is better not to kick against the goads. (Acts 26:12-18) Or perhaps you more closely identify with barnyard animals…
"I will instruct you and teach you in the way you should go; I will counsel you with my eye upon you. Be not like a horse or a mule, without understanding,which must be curbed with bit and bridle, or it will not stay near you." (Psalm 32:8-9)
Try as we might, we don't get to redefine holiness based on what we believe that we might be able to achieve. We are better off to just go ahead and confess what we might prefer to deny. When you are lost, stop and ask for directions. Get into the flow of traffic with corrected navigation and discover your part in the grand redemptive score — a holiness remix. (1 John 1:9)
*From lyrics at­trib­ut­ed to Ber­nard of Clair­vaux, 1153 (Sal­ve ca­put cru­en­ta­tum); trans­lat­ed from La­tin to Ger­man by Paul Ger­hardt, 1656 (O Haupt voll Blut und Wund­en), and from La­tin to Eng­lish James W. Al­ex­and­er, 1830.
Copyright © 2014. The Literate Lyoness.

Make your own tracks…Arrangement of choice for this week is "O Sacred Head Now Wounded" on Beginnings by Fernando Ortega.